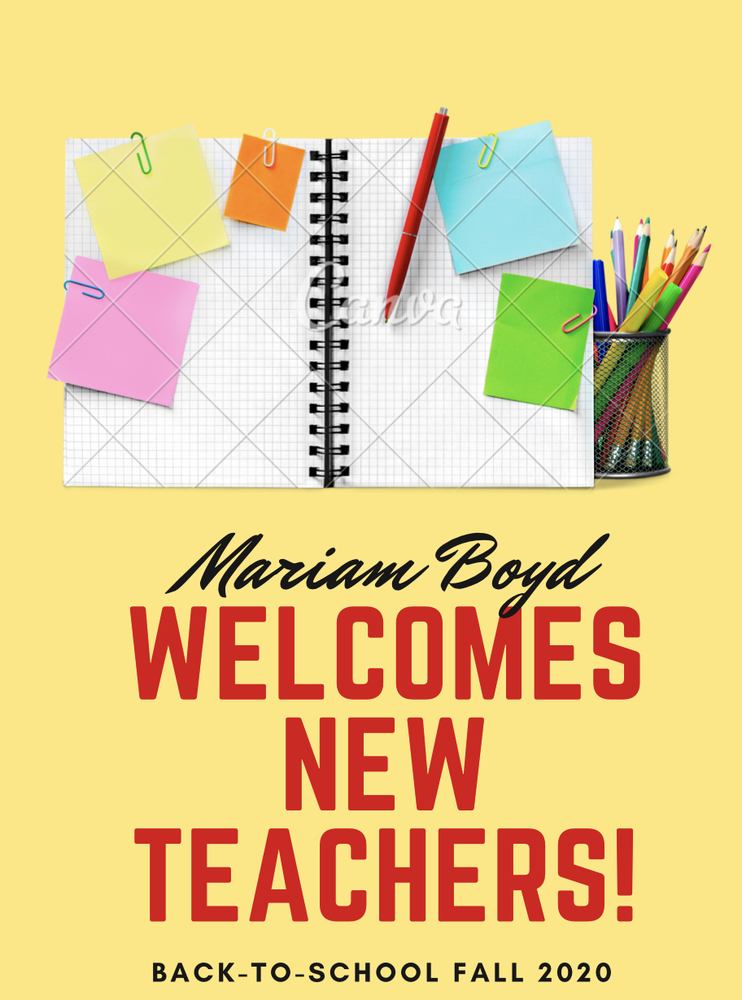 Mariam Boyd Welcomes New Staff Members
Mariam Boyd Elementary
Tuesday, August 18, 2020
As Mariam Boyd begins the 2020-2021 School year, we would like to introduce and welcome those who are new to our staff. We are looking forward to a wonderful school year,and are eager to see all of the wonderful achievements that this new year brings! Welcome to the Eagle family!
Ms. Dania Munoz- 5th Grade Teacher
Hi everyone, my name is Dania Munoz, I am very excited to be your Language Arts teacher. I have been teaching for more than 8 years and I love it. I am from Honduras, I am married and mother of a handsome boy.
I love traveling and learning from different cultures, reading and spending quality time with my family are part of my hobbies.
I look forward to supporting each of you and helping you to be the best version of you as students and as the unique human being that you are.
Miss Lucy Russell- 2nd Grade Teacher
Hi everyone! My name is Lucy Russell, and I am a new 2nd grade teacher at Mariam Boyd!
I am a North Carolina native, and I graduated from the University of North Carolina at Chapel Hill! My passion for teaching started in high school when I worked for a YMCA elementary afterschool program called Y Learning. Since then, I have continued my love for working with students by volunteering at my local Boys and Girls Club, tutoring at our community's Refugee Support Center, and starting a civic education program in Chapel Hill elementary schools. I focus on developing trusting relationships with children by investing energy in their academic learning and in their personal development as growing humans. I hope to create a classroom culture where students learn how to express themselves through writing and feel empowered to be critical thinkers and change agents in the world. My core values include commitments to community, racial and social justice, lifelong learning, and radical love for all.
My favorite color is purple, and my favorite place is anywhere with a beach! I am happiest when working with children, reading books about history, listening to live music, and playing with my new kitten. I am SO grateful to join the family at Mariam Boyd and am so eager to get to know each and every one of you! Thanks so much for all that you do.
Ms. Rochelle Hendricks- Teacher Assistant (K-5 Combination)
My name is Rochelle Hendricks. I am an EC Teacher Assistant in Miss Barrow's class. I am the mother of 4 and 2 grandchildren. I love to read, shop, and play games on my tablet. I am excited to get the new year started at a new school. I was transferred from WCHS as an EC Teacher Assistant under Ms. Denise Jones for the last four years. Thank you Mariam Boyd for having me. Be Blessed.
Ms. Sheila Kearney- Kindergarten Teacher
Sheila Kearney
*Educator - 27 years
*Former Basketball, Volleyball, and Softball Coach/Referee
*Member of NCAE, NCHSAA, Delta Sigma Theta, Inc.
*Fayetteville State University - Basketball Hall of Fame
*Youth Director of Springstreet Missionary Baptist Church