STUDENT-ATHLETE COVID-19 REQUIREMENTS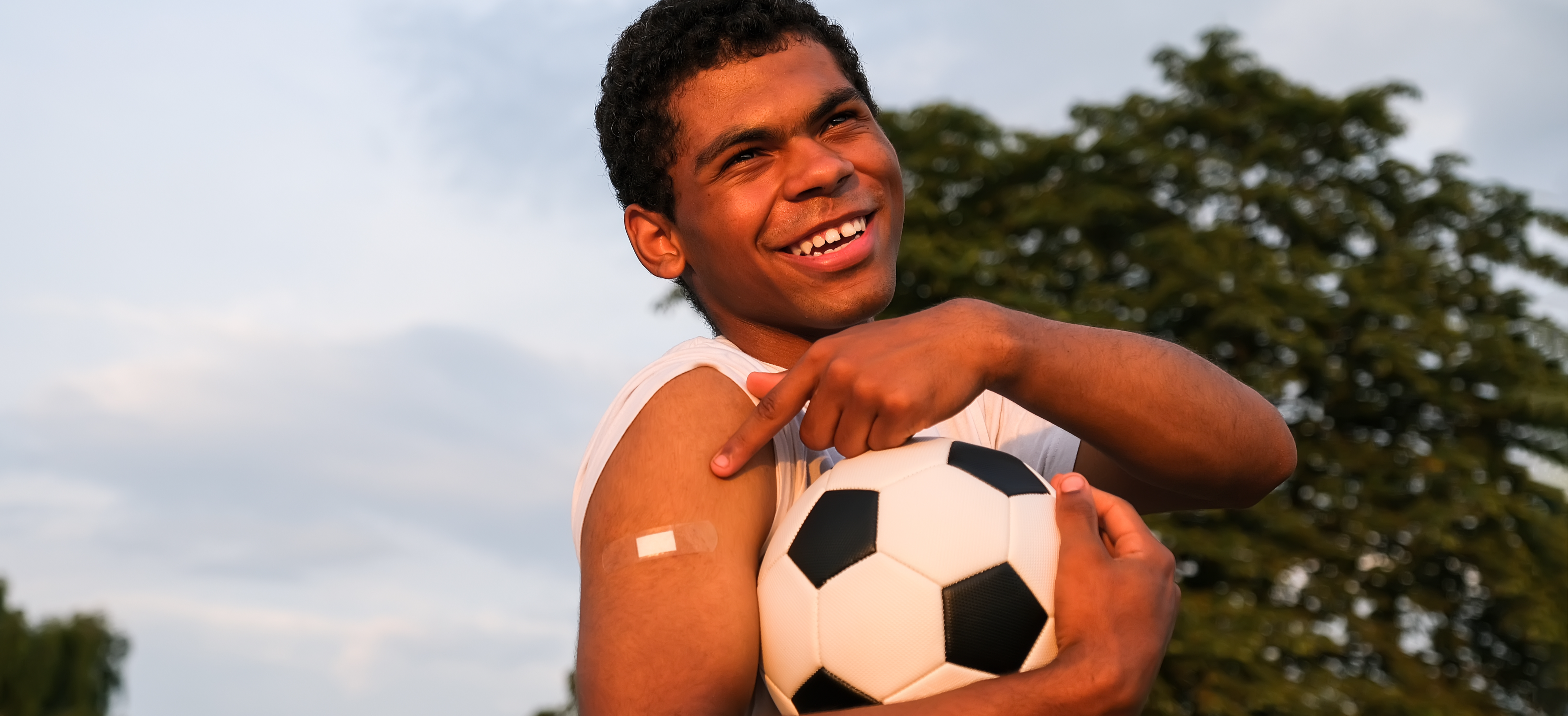 Take your shot
Get a free COVID-19 vaccine! Visit MySpot.nc.gov or call 888-675-4567 to find a vaccination site near you.
Teen vax facts
The tested, safe and effective Pfizer COVID-19 vaccine is now available for teens ages 12 and up.

Getting a COVID-19 vaccine is the best way to protect them, our family, and our community.
Requirements

Benefits for you

Get the COVID-19 vaccine

Stay in the game
Once vaccinated, you will not have to quarantine if you are exposed to someone with COVID-19, unless you develop symptoms. It's the only way to make sure you're not sidelined for the big game!

Save your season
This could prevent your team from having to forfeit or reschedule games due to quarantines

WeCare weekly COVID-19 testing

Reduce your risk of COVID-19 Exposure
With the entire team being tested weekly, you're less likely to be exposed to COVID-19.

The best option is for student-athletes to voluntarily be tested twice a week.
We all want our children to be able to play the sports they love and experience those special moments on the field, the court, the track, or the mat.
In order to keep students playing sports, we have to keep them healthy and minimize quarantines.
If your student-athlete has not received their first dose of the vaccine by October 9, 2021, or the second dose by November 8, 2021 they will not be allowed to participate in any athletic activities, including off-season conditioning or workouts.
For the health and safety of our schools and community, our school board unanimously voted to require all student-athletes to be vaccinated against COVID-19 and to be tested for COVID-19 at least once a week. Health experts have determined there is a higher risk of spreading COVID-19 while participating in sports. Federal, state, and local health experts tell us the safest way to keep students safe while participating in athletics is for everyone to be vaccinated and to participate in regular, frequent testing to identify people who may have COVID-19, but don't know it because they don't have any symptoms.
"Any scenario in which people who are not fully vaccinated gather together poses a risk for COVID-19 transmission. All organizations and programs that gather groups of people should create and implement a plan to minimize the opportunity for COVID-19 transmission."
NC Department of Health and Human Services Interim Guidance for Administrators and Participants of Youth and Amateur Sports Programs  
If there is a medical or sincerely held religious reason why your student-athlete cannot receive the COVID-19 vaccine, you may request an exemption to the vaccination requirement.
Student-athletes who request and are granted an exemption to the vaccination requirement must be tested twice a week for COVID-19.
To request a medical or religious exemption to the student-athlete vaccination requirement, ask your Coach or Principal for either the Medical Exemption Form or the Religious Exemption Form.
WeCare COVID testing play-by-play
No cost to you or Warren County Schools

Testing done at school every week

Students shown how to test themselves

No nose swab! Students touch the inside of their mouth with a long, skinny cotton swab

Results within 24-48 hours
The WeCare weekly, voluntary testing is free to you. You must complete and return the consent form for your student to be tested. Please provide your student's insurance information, so One Love Services can bill them directly. The federal government will cover the cost for anyone who does not have insurance. The WeCare testing service is provided at no cost to Warren County Schools.