Summer Bridge Camp Open House
Thursday, June 30, 2022 in Mariam Boyd Elementary School Multi-Purpose Room. Drop by between 1-2:30 p.m. All registered K-12th grade campers will receive camp schedules, teacher/location assignments, bus assignments, and attendance expectations
First Day of Camp: July 11, 2022.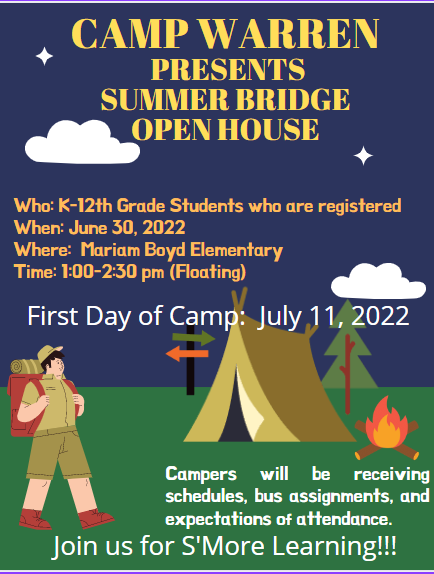 Good evening, We apologize for the late evening message. Report cards were mailed out on Friday evening, therefore many of you will receive them by Wednesday. We had to wait for state test scores to arrive prior to making final grade calculations. Thank you for your patience. Have a great weekend!

We can't believe it's been almost a week since 53 students graduated from Warren County High School. Looking back at all the pictures, we're still smiling! Full photo album on FB:
https://bit.ly/3tJlkP8
. Congratulations, Eagles Class of '22! #WarrenProud #Eagles4Life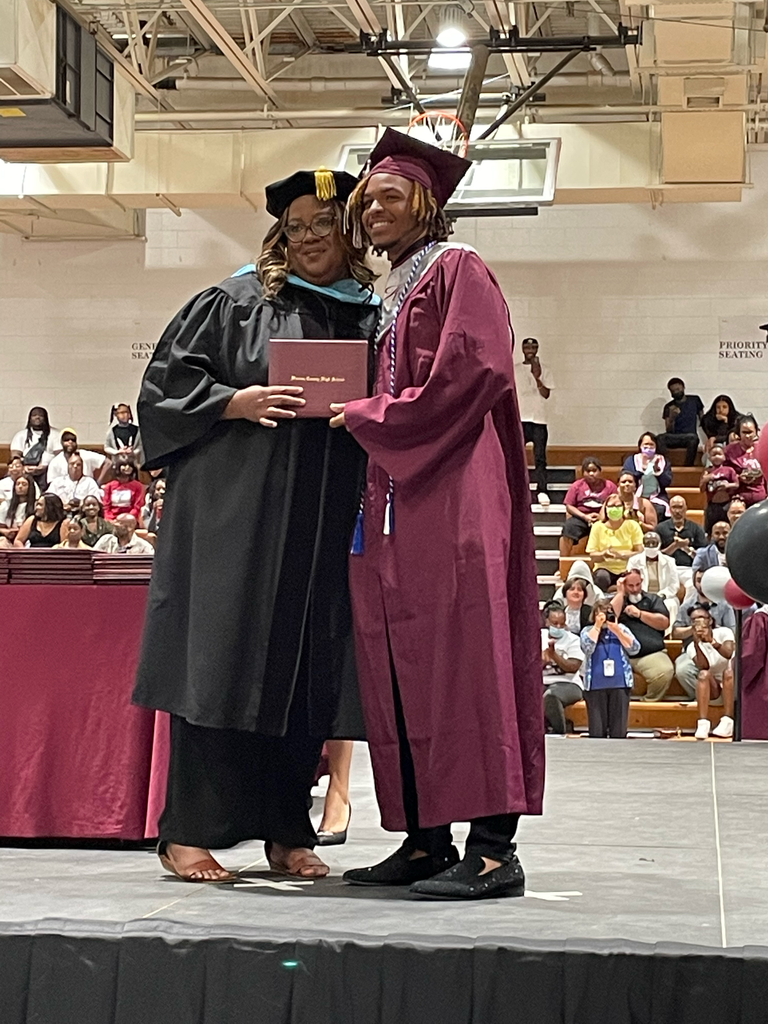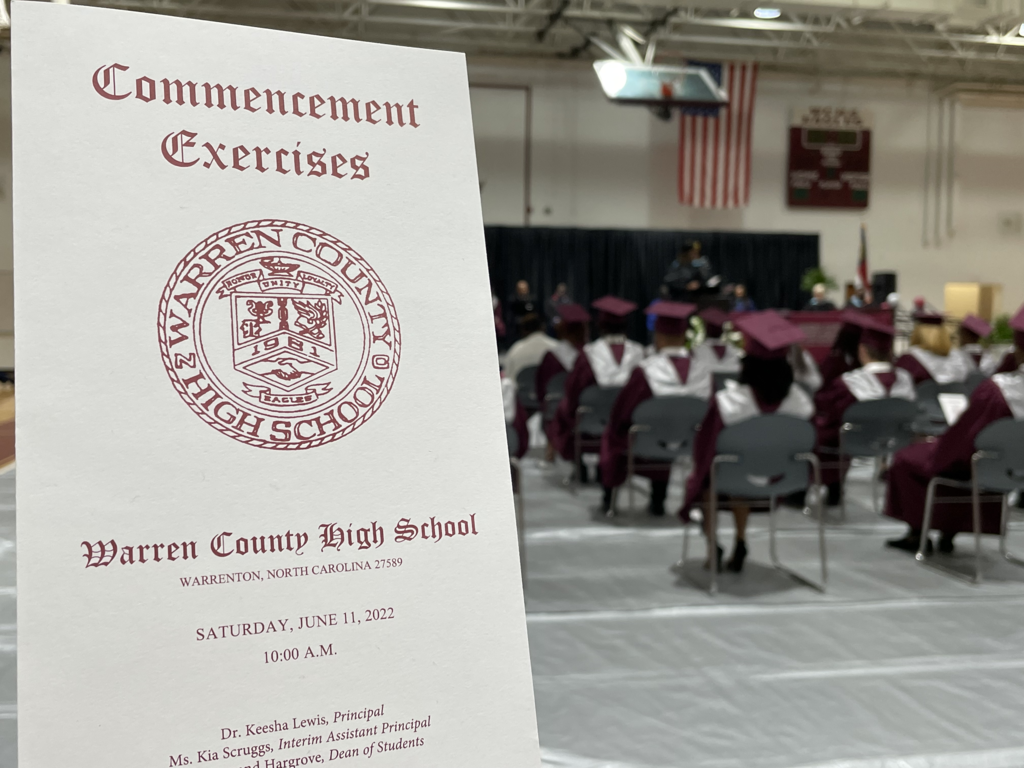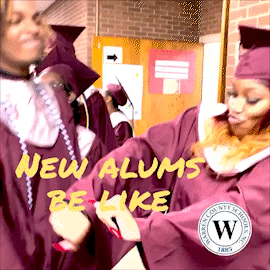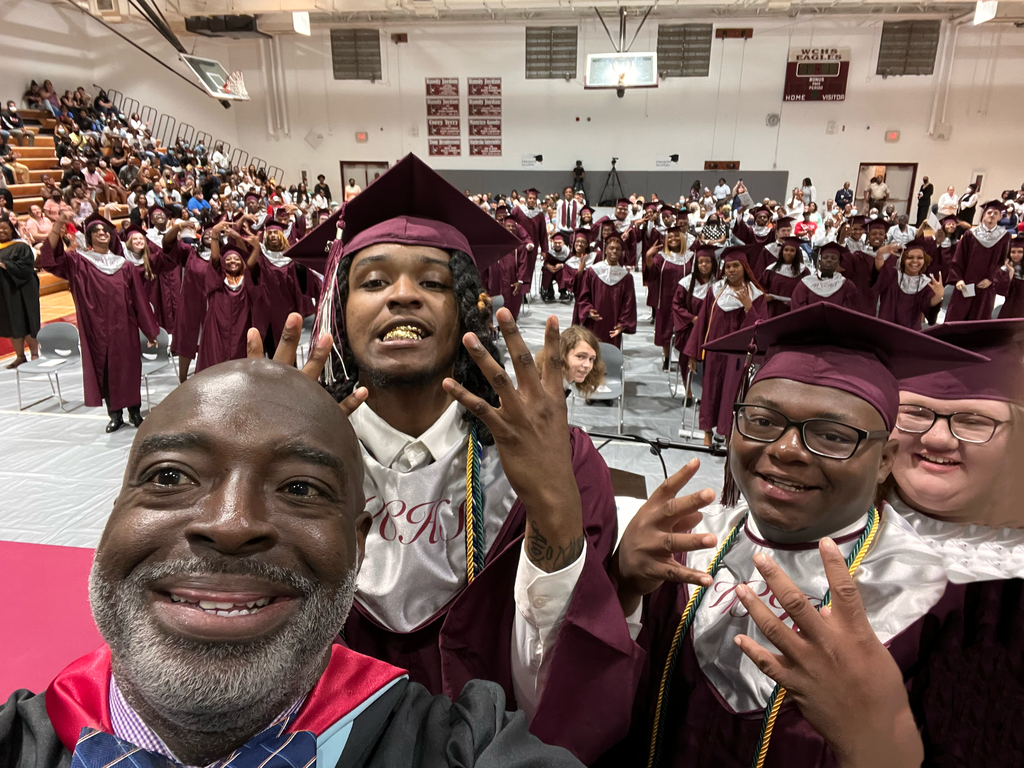 Good morning! There are two options for Summer Learning: Credit Recovery and "Getting Ahead." Please review the attached informational documents CAREFULLY for more information. Please contact the Summer Learning office at 252-257-3184, ext. 3254.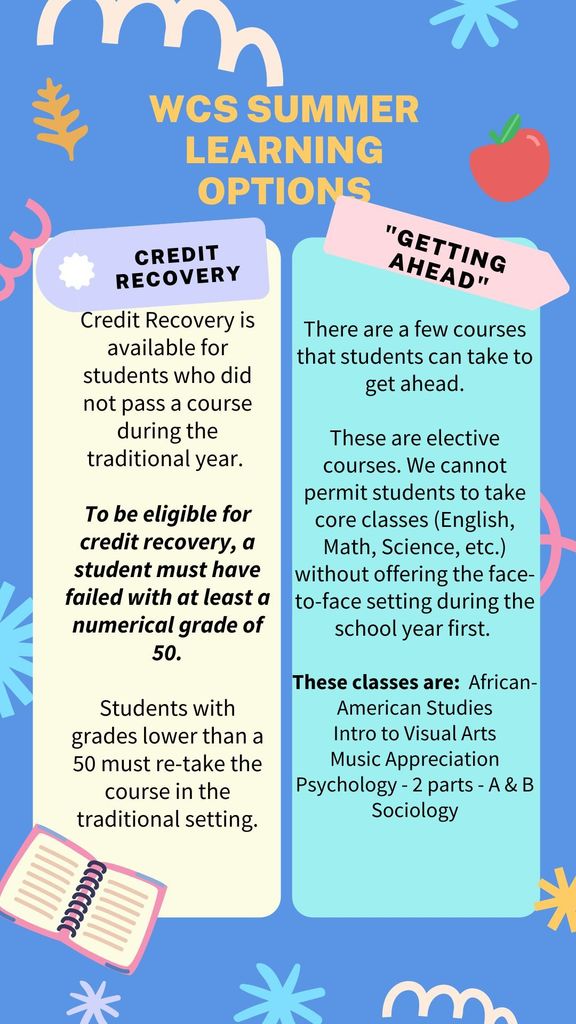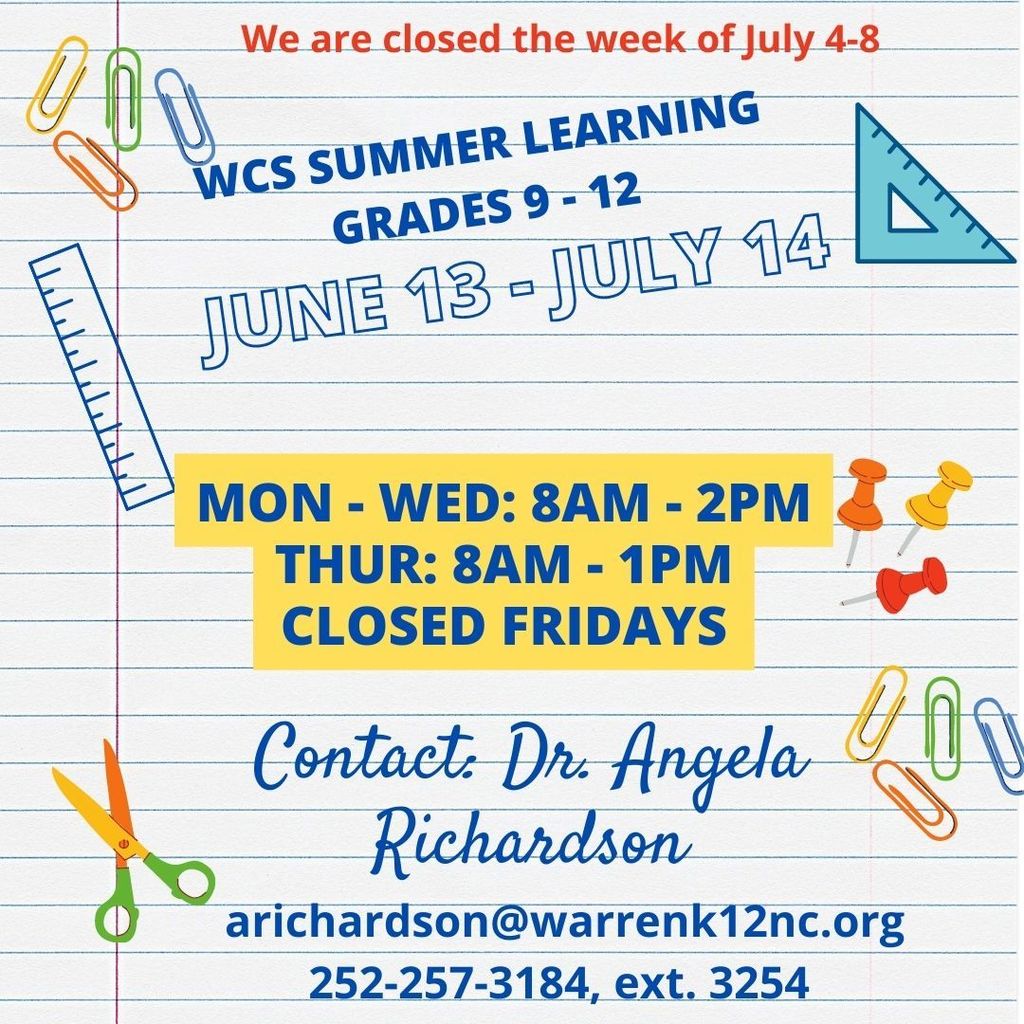 Good morning, Thank you for your patience as we register students for Summer Learning. We are still working on grades, and factoring in incentives from Saturday Academy, etc. This will affect whether some students need to attend Summer Learning or not. Please note: that students are still welcome to attend Summer Learning even if they have not failed a course. They can use this opportunity for enrichment and getting ahead. We intend to have all minor details sorted out and communicated clearly to you no later than Wednesday, June 15. Thank you for your continued support or patience.

Summer Learning and Credit Recovery for grades 9-12 begins on today, June 13. We thank you in advance for your patience as we get students registered today. We may see a significant decrease in students requiring credit recovery as grades are currently being stored from the most recent semester. Please call WCHS and dial extension 3254 to be connected with someone from the Summer Learning staff. Thank you!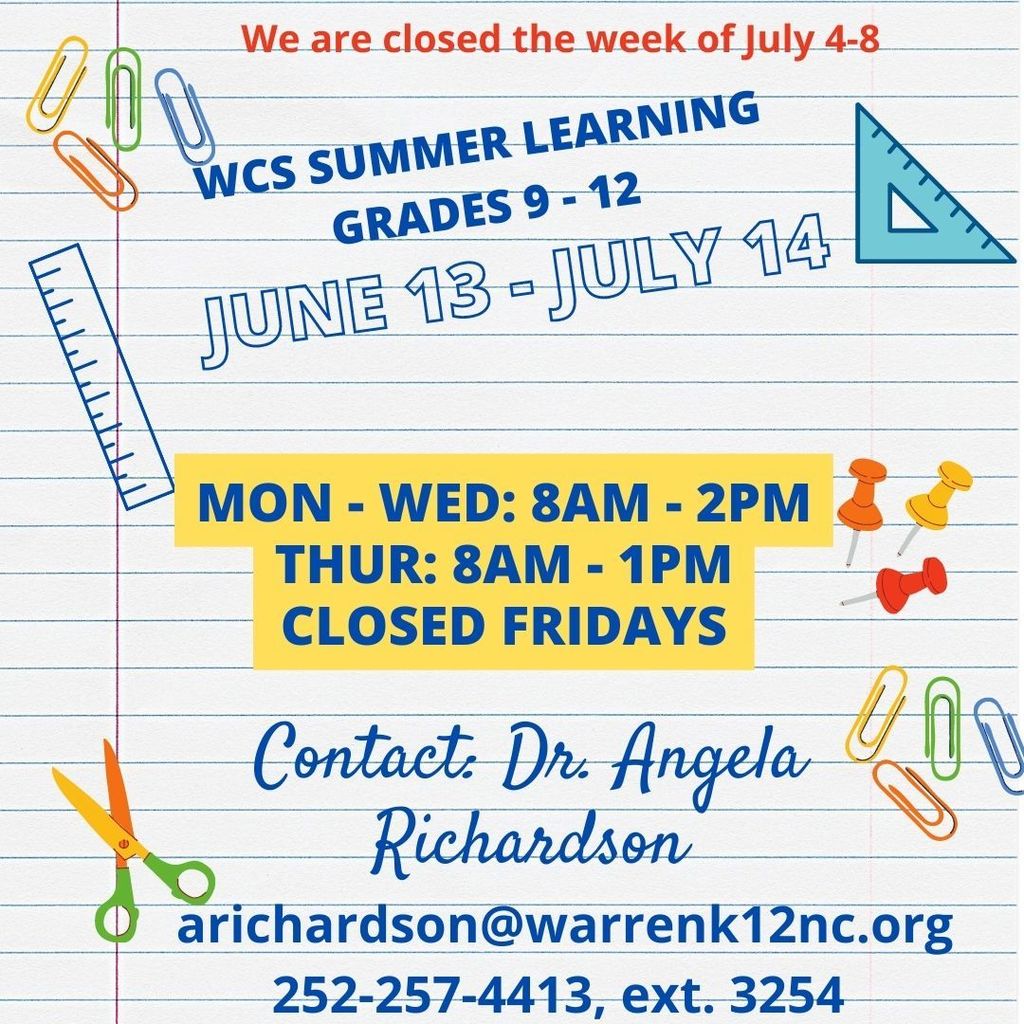 We hope you enjoy your first full day of summer! Teachers and staff, it's almost your turn for a day off! 😇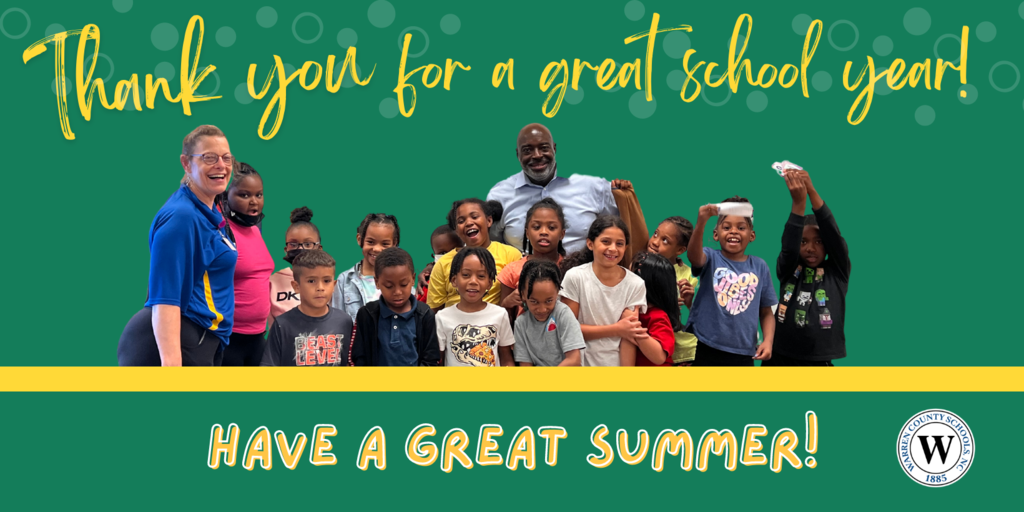 Eagle Family, Thank you for an amazing and prosperous year! Please take a moment to read this closeout letter from our Principal, Dr. Lewis. HAVE A SPLENDID SUMMER!
https://bit.ly/3mnBSI7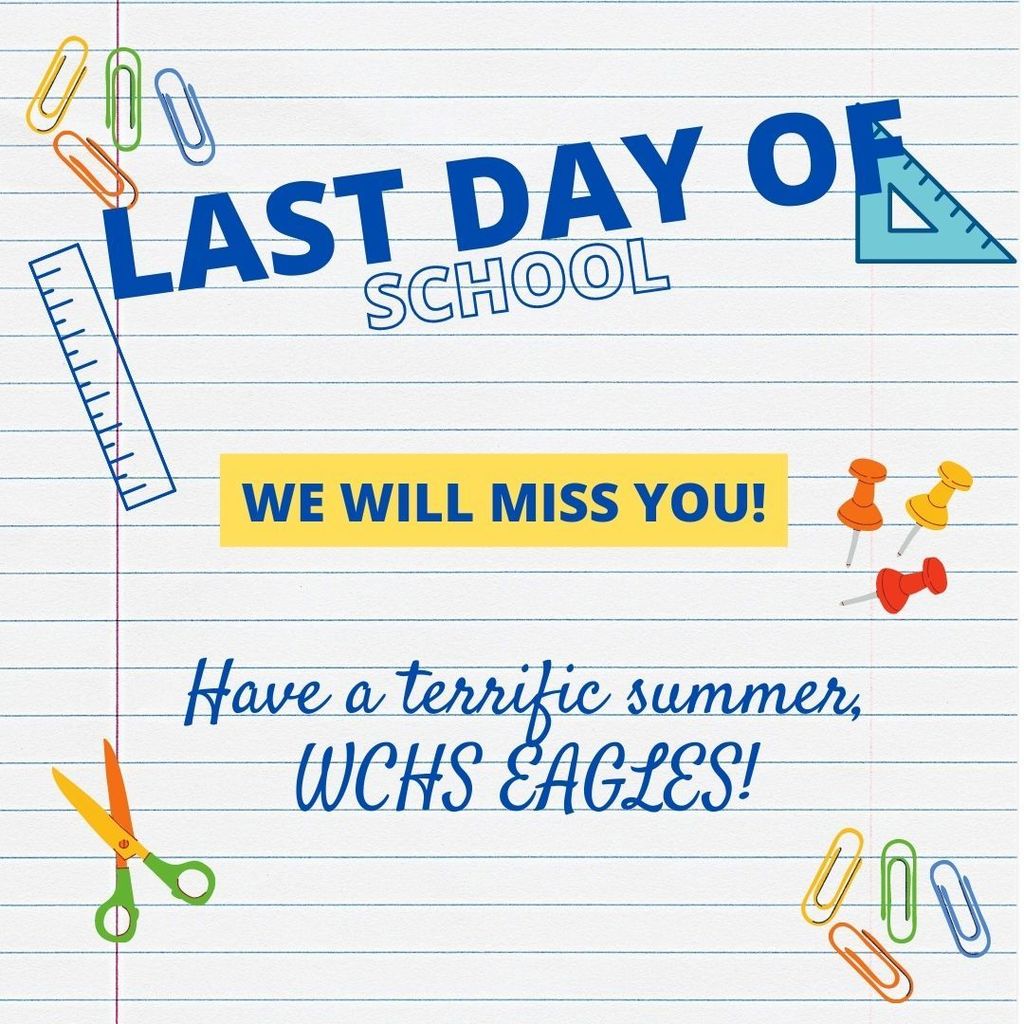 We are immensely grateful to the John Graham High School class of 1971 for partnering with Warren County High this school year. Their presence made a remarkable difference! Not only did they volunteer their services to provide instruction, they also assisted with our Saturday Academy. Today, the John Graham class of 1971 provided an end-of-year lunch for teachers. Thank you!❤️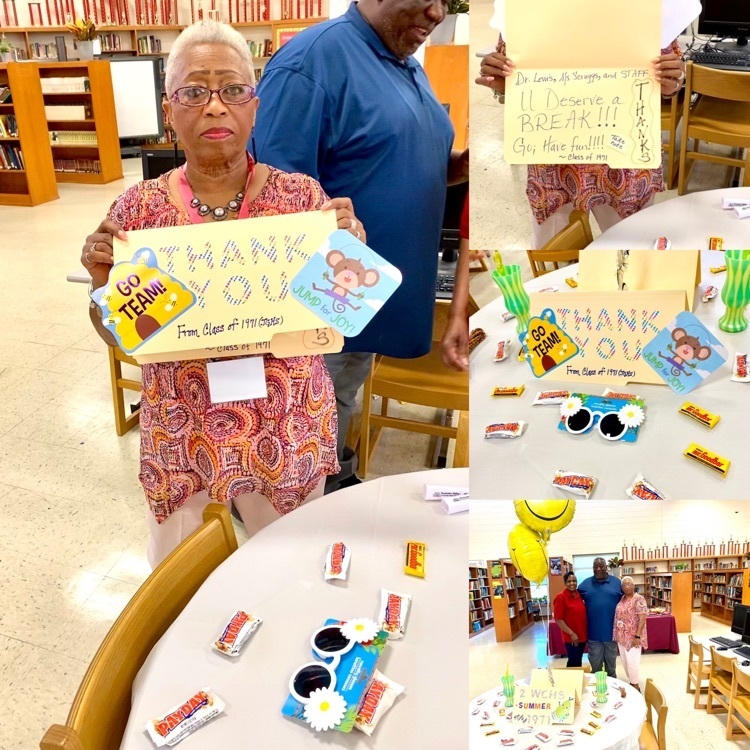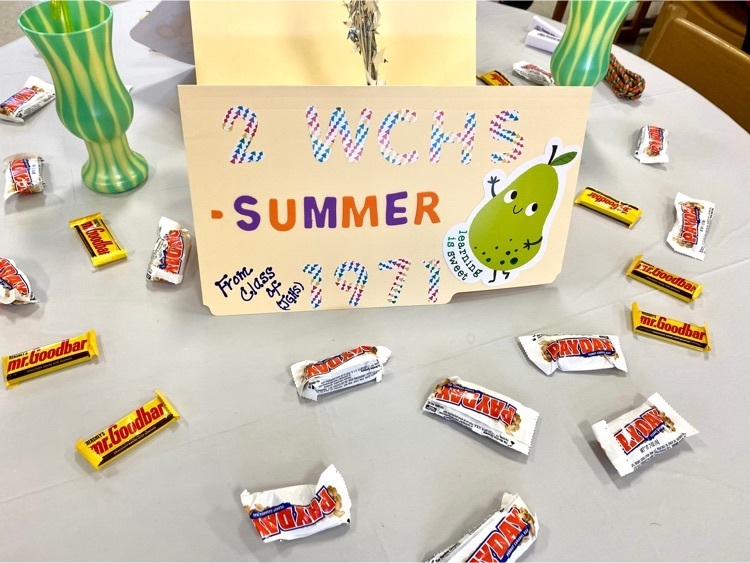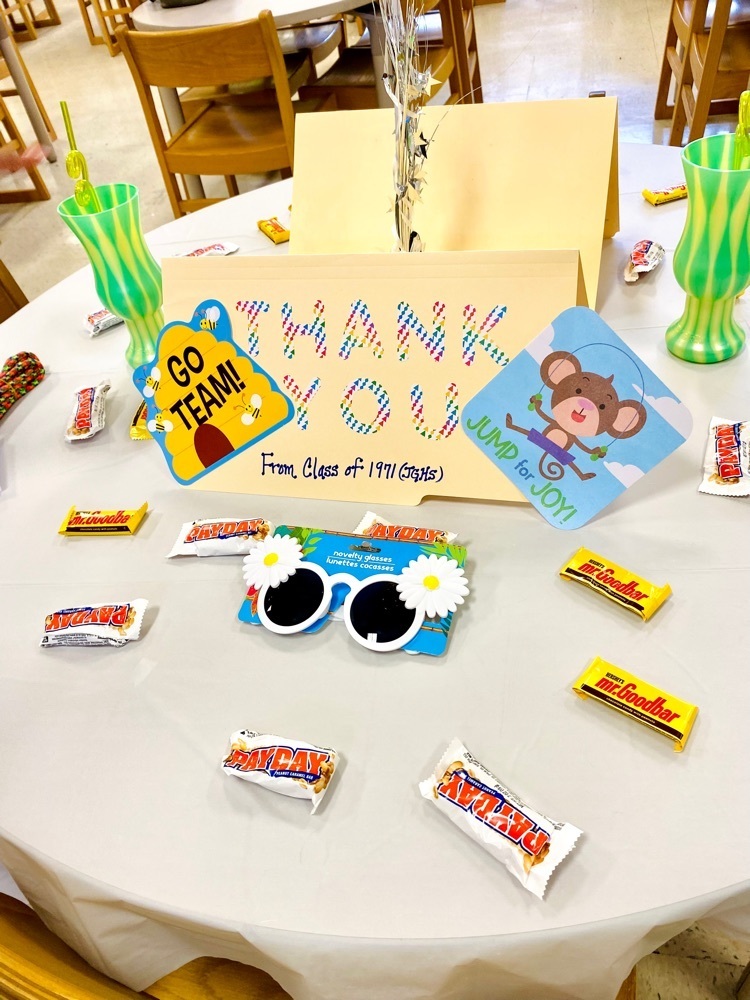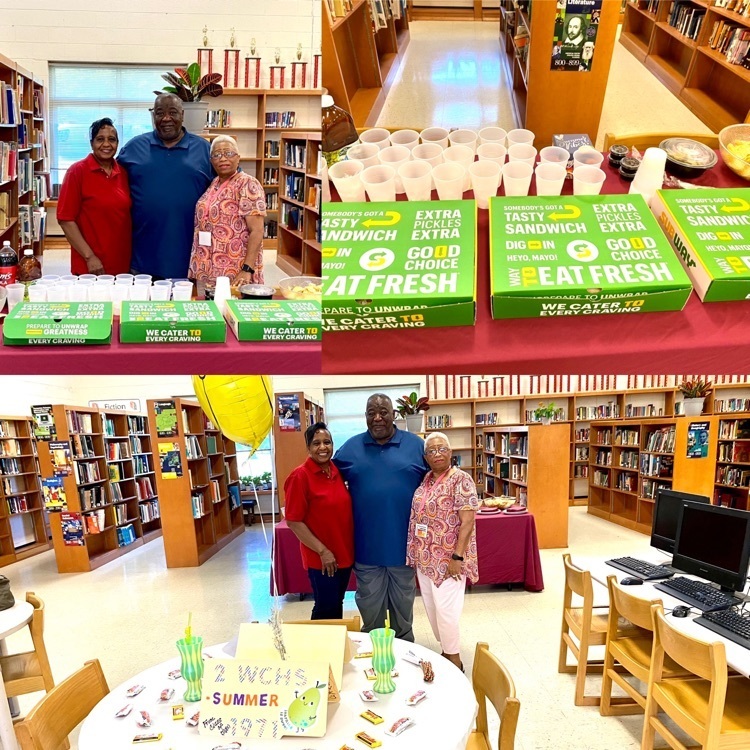 Eagle Family! Tomorrow is the last day of school. Tomorrow is also an Early Release Day and students will be released at 12:30pm. We will be conducting MAKEUP EXAMS FOR STATE TESTS ONLY. Therefore, students that DO NOT have a state test to makeup, may remain home and record their attendance asynchronously or remotely. You may be contacted by your child's teacher if they are not proficient on exams, so that they can be scheduled for summer remediation and retesting beginning on June 8 - 10.

The last day of school is June 7! We are still administering state final exams. If students DO NOT have state final exams to make-up, then we are advising that they remain home and record their attendance remotely/asynchronously. June 7 is also an early release day. Please review this document for more important dates!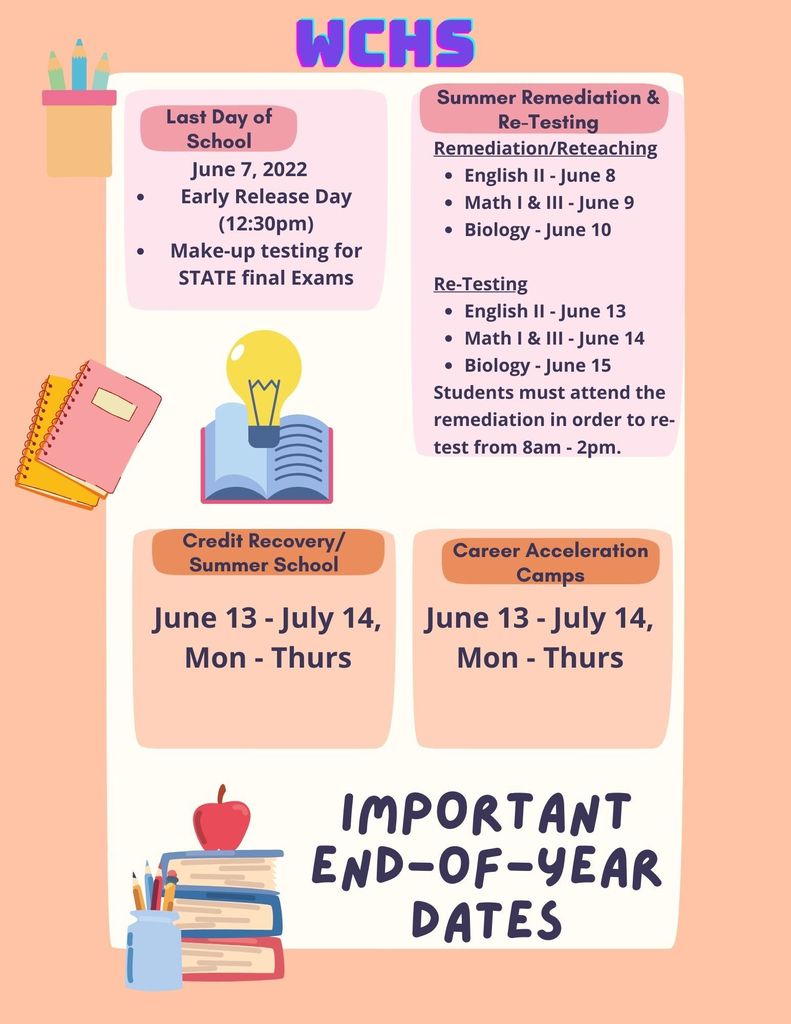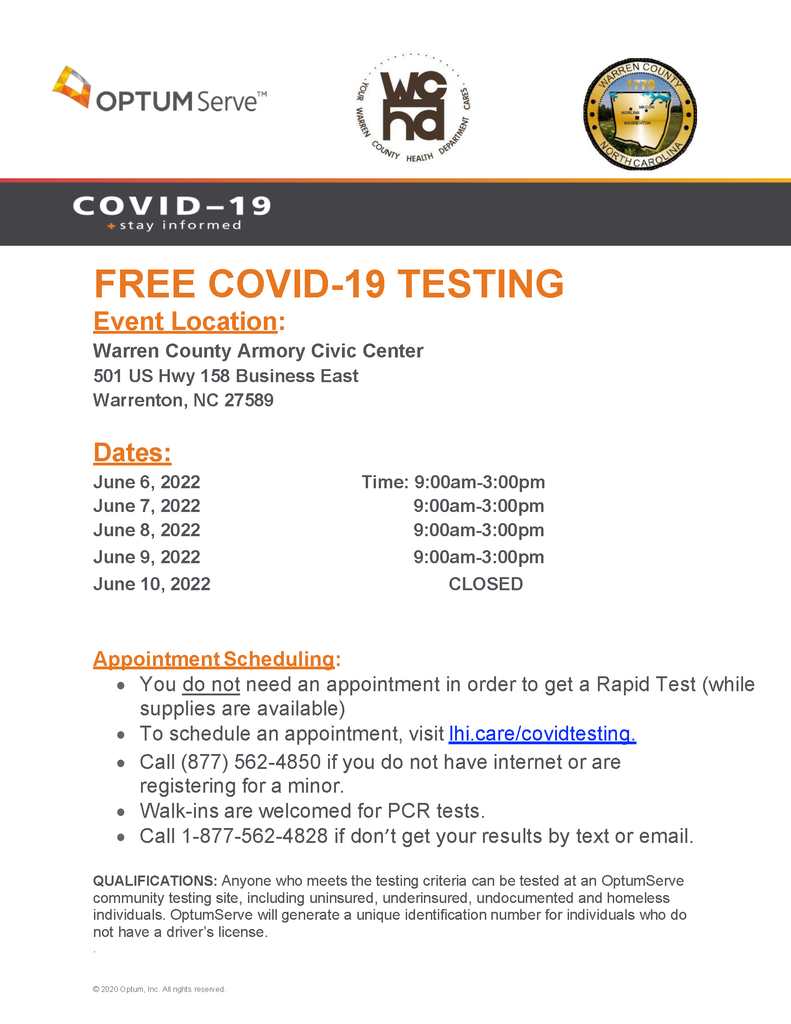 Good evening! This is a reminder that 5th period state final exams (EOC & CTE) will take place on tomorrow, June 6. Students that are not testing are being asked to record their attendance remotely from home. Makeup exams will take place June 7.

Good evening! This is a reminder that STATE final exams will take place on tomorrow, June 3. Have a restful evening!

Parents, this is a reminder that state final exams continue tomorrow, JUNE 2. We are only administering STATE exams at this time. Local exams were administered last week. Due to our high number of test sites, we are asking students that do not have tests on that given day to remain home and record their attendance remotely/asynchronously in Google classroom using any mobile device. **For Thursday, June 2, we are administering 2ND PERIOD STATE exams for the following subjects: Biology, Math I, Math III, Health Science I, Masonry 2, Foods and Nutrition I, Adobe Visual Design.** Again, we are administering 2ND PERIOD STATE exams only. All other students are being asked to record their attendance remotely due to staffing issues. Please get plenty of rest, study hard, and we will see you tomorrow!

Parents, June 1-7 starts our state testing sessions. Any local (teacher-made) exams were administered this week. ALL exams count for 20% of students' overall grade. On the week of June 1-7, due to a high volume of testing sites, students are permitted to learn asynchronously (remotely) if they DO NOT have a STATE exam on that given day. HOWEVER, we need your permission before asynchronous (remote) learning for that week is approved. Please read this letter for more information. Thank you.
https://bit.ly/3LTGr7o

Apply now to attend Camp Warren this summer! Whether it's to improve a course grade, meet grade-level reading requirements, get ahead in a subject, or just because you love learning - we've got a great camp just for you! And did we mention it's FREE?!?
https://bit.ly/3FOeGvK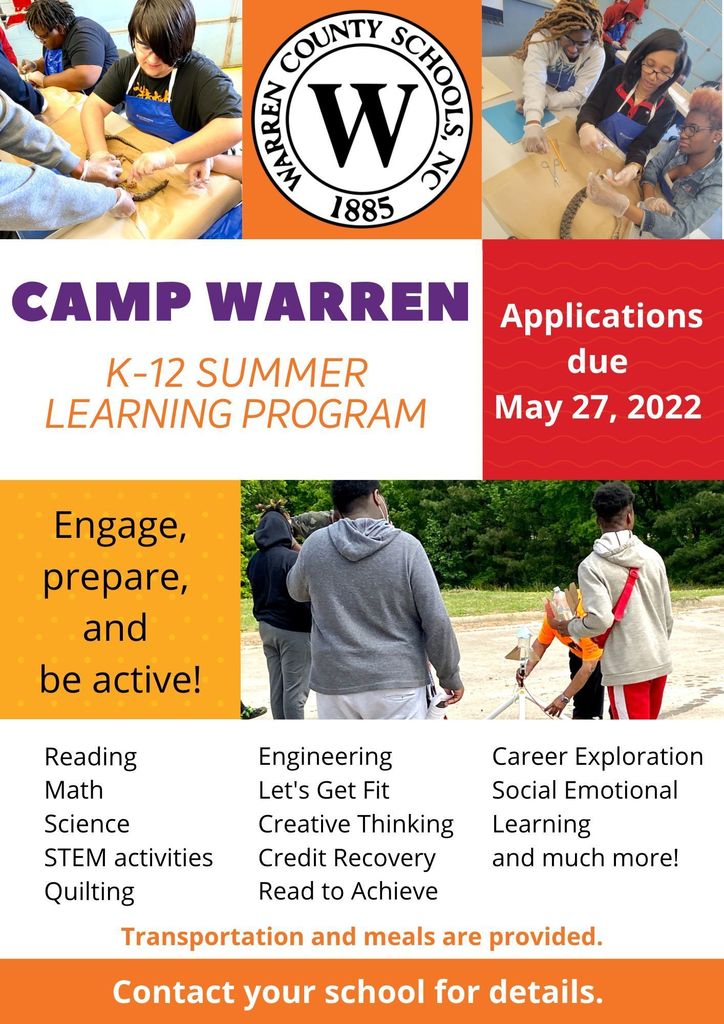 Today is School Nurse Day! It'd take much more than a single day to adequately celebrate our School Nurses! These professionals have been non-stop throughout the Pandemic... caring for students and staff, contact tracing COVID cases, connecting families to school and community resources, helping manage chronic conditions, training staff, administering medications, creating health guidelines for the district, coordinating with local, state and federal health officials, and the list goes on and on. Thank your school nurse for helping keep our schools open, helping keep our students and staff healthy, and their commitment to staying and working in Warren County to serve our families. #SND2022 #EverydayHeroes #WarrenProud #ThankANurse #SchoolNursesTeachUsAll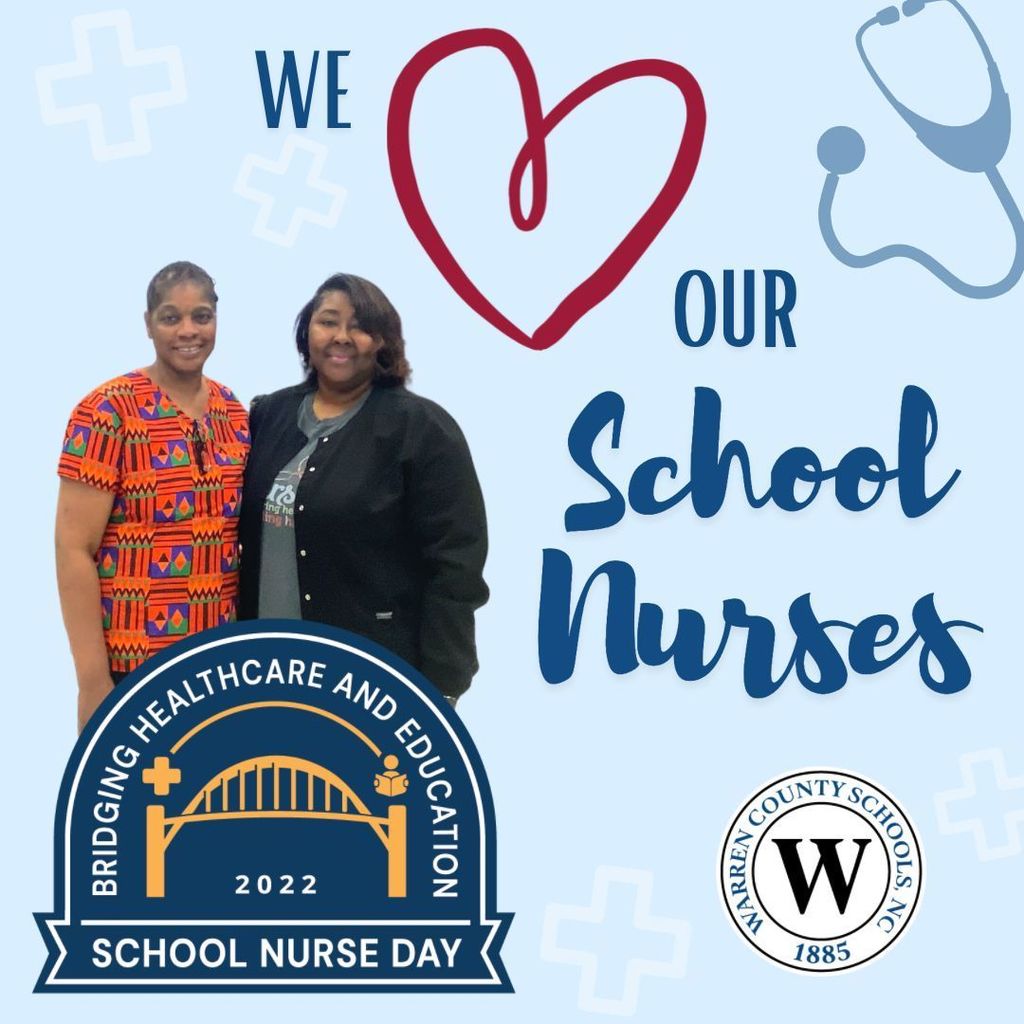 ❤️ Teachers change lives, one day at a time, one child at a time. ❤️ How can we adequately show appreciation for that?! Start by #ThankATeacher! Happy National Teacher Appreciation Week! #WarrenProud #WeOweYouEverything